Why Does My Dental Hygienist Ask So Many Questions?
Why Does My Dental Hygienist Ask So Many Questions?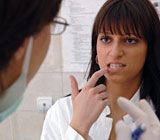 You just came in to have your teeth cleaned, but our hygienist is asking you about your general state of health and what medications you are taking. Meanwhile you are wondering why she doesn't just get on with the cleaning.
Dental hygienists are health care professionals who are trained and licensed to preserve your general as well as your oral health. That's why our hygienist begins your visit by asking you about your health history. Some health problems or medications may require special precautions during a dental cleaning. A hygienist also needs to know about your dietary history and other general health questions.
Our hygienist will examine the skin in and around your mouth for sores, lumps, and other areas that could be signs of oral cancer or other problems. She is trained to spot this disease and others.
Dental hygiene is individualized to your own situation. There is not a "one size fits all" solution. During your cleaning, our hygienist will also evaluate the health of your gums and teeth, checking for tooth decay and for inflammation (gingivitis) and bleeding. She will measure the space between your teeth and the surrounding gums, looking for pockets that form when the gums detach from the teeth. Such pockets indicate periodontal disease and can lead to serious problems.
After your health assessment and examination, the actual cleaning will begin. Your dental hygienist will remove deposits of plaque and calculus by using a technique called scaling. Plaque is a biofilm, a film of bacteria that builds up on your teeth. The reason you brush and floss every day is to remove this film from the surfaces of your teeth and gums and from between your teeth. Plaque that is not removed hardens into a mineralized substance called tartar or calculus, and this is what the hygienist removes by scaling.
The next step is a polish to remove surface stains from your teeth and to give your teeth the slick feeling that you identify as clean.
Finally, our hygienist will discuss your state of oral health with you and make suggestions for improvement. Most hygiene appointments take about 45 minutes to an hour. As you can see, during this appointment a lot must be done to preserve your oral health.
If you are in need of a dental cleaning, contact our office today to schedule an appointment. You can learn more about your visit to the hygienist by reading the Dear Doctor magazine article "Dental Hygiene Visit."
This website includes materials that are protected by copyright, or other proprietary rights. Transmission or reproduction of protected items beyond that allowed by fair use, as defined in the copyright laws, requires the written permission of the copyright owners.