What Is A Veneer?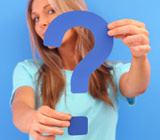 A veneer is a cosmetic dental procedure that we use in some situations to correct discolored teeth, small spaces or gaps between teeth, small chips or oddly shaped teeth, and teeth that are slightly misaligned by placing a thin shell covering over the teeth. They are artistically hand-crafted by lab technicians out of tooth-colored porcelain using precise molds that we have made in our office. We attach veneers to the tooth's surface using a special adhesive that creates a chemical bond. Veneers are often a key component in a smile makeover.
Traditional veneers will require some tooth preparation, a process where we reduce or file down some of the facial (front, visible) portion of your tooth by 0.3 to 0.7 millimeters. For this reason this cosmetic procedure is not reversible.
How Long Do They Last?
Veneers can last from 7 to 20+ years depending on how you care for them. This may include sleeping in a protective, professionally made mouthguard. And while porcelain is a durable material that can withstand a great deal of pressure, you must remember that they are a type of glass. You could possibly shatter a veneer if you bite into anything that requires a hefty amount of twisting movement and biting pressure.
By using the latest technologies and procedures, we will create the naturally beautiful smile of your dreams and we will restore your mouth to full functionality and optimal health. Contact us today to discuss your questions or to schedule a consultation.
Want To Learn More?
Learn more about veneers when you continue reading the exclusive article from Dear Doctor, "Smile Design Enhanced With Porcelain Veneers."
This website includes materials that are protected by copyright, or other proprietary rights. Transmission or reproduction of protected items beyond that allowed by fair use, as defined in the copyright laws, requires the written permission of the copyright owners.