Treating Bite Problems Early Could Make Later Treatment Easier or Unnecessary
Treating Bite Problems Early Could Make Later Treatment Easier or Unnecessary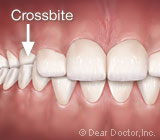 When most people think of orthodontic treatment, they may think of braces worn during the teenage years. But there are some types of malocclusions (bad bites) that may benefit from intervention much earlier than adolescence. A cross-bite is one example.
A cross-bite occurs when the front teeth of the lower arch bite in front of the upper teeth rather than behind them. The condition can have an adverse effect on any of the six front teeth of either arch. This type of malocclusion can develop quite early in childhood.
Orthodontists have developed a two-phase treatment for a cross-bite, with the possibility that the first phase may be all that's needed. If your child has a cross-bite, your orthodontist may first recommend he or she wear a specially-designed retainer for a few months. The retainer could stop and correct an existing problem before it becomes worse, or it could prevent a deeper problem from developing in the first place. The retainer could also help guide jawbone development during these formative years, even as early as age 7, for children at risk.
Even if this first phase doesn't fully correct the cross-bite and the second phase (most likely braces or a similar orthodontic device) becomes necessary, it could still help to make the second phase easier and less costly. On the other hand, if orthodontic treatment is postponed until adolescence when the mouth structures are more fully formed it may become quite difficult or even impossible to correct the problems that have developed.
As a result, early intervention for this or similar orthodontic conditions is the most efficient strategy, even when later treatment is necessary. As part of your child's regular dental care (which should begin ideally around their first birthday), we can advise you on any need for an orthodontic evaluation based on our observations. An orthodontist can then best advise whether waiting until later for treatment is best, or whether intervention now could lessen problems later.
If you would like more information on preventative orthodontics, please contact us or schedule an appointment for a consultation. You can also learn more about this topic by reading the Dear Doctor magazine article "Preventative & Cost Saving Orthodontics."
This website includes materials that are protected by copyright, or other proprietary rights. Transmission or reproduction of protected items beyond that allowed by fair use, as defined in the copyright laws, requires the written permission of the copyright owners.