Posts for tag: wisdom teeth
By Craig S. Karriker, DMD, PA
December 03, 2018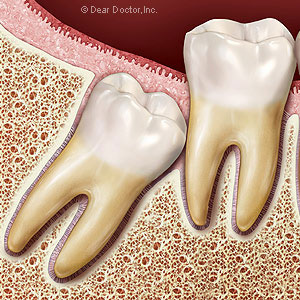 As permanent teeth gradually replace primary ("baby") teeth, most will come in by early adolescence. But the back third molars—the wisdom teeth—are often the last to the party, usually erupting between ages 18 and 24, and the source of possible problems.
This is because the wisdom teeth often erupt on an already crowded jaw populated by other teeth. As a result, they can be impacted, meaning they may erupt partially or not at all and remain largely below the gum surface.
An impacted tooth can impinge on its neighboring teeth and damage their roots or disrupt their protective gum attachment, all of which makes them more susceptible to tooth decay or periodontal (gum) disease. Impacted teeth can also foster the formation of infected cysts that create areas of bone loss or painful infections in the gums of other teeth.
Even when symptoms like these aren't present, many dentists recommend removing the wisdom teeth as a preemptive measure against future problems or disease. This often requires a surgical extraction: in fact, wisdom teeth removal is the most common oral surgical procedure.
But now there's a growing consensus among dentists that removing or not removing wisdom teeth should depend on an individual's unique circumstances. Patients who are having adverse oral health effects from impacted wisdom teeth should consider removing them, especially if they've already encountered dental disease. But the extraction decision isn't as easy for patients with no current signs of either impaction or disease. That doesn't mean their situation won't change in the future.
One way to manage all these potentialities is a strategy called active surveillance. With this approach, patient and dentist keep a close eye on wisdom teeth development and possible signs of impaction or disease. Most dentists recommend carefully examining the wisdom teeth (including diagnostic x-rays and other imaging) every 24 months.
Following this strategy doesn't mean the patient won't eventually have their wisdom teeth removed, but not until there are clearer signs of trouble. But whatever the outcome might be, dealing properly with wisdom teeth is a high priority for preventing future oral health problems.
If you would like more information on wisdom teeth and their potential impact on dental health, please contact us or schedule an appointment for a consultation. You can also learn more about this topic by reading the Dear Doctor magazine article "Wisdom Teeth: Coming of Age May Come with a Dilemma."
By Craig S. Karriker, DMD, PA
December 30, 2014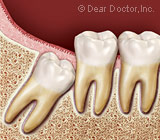 The third molars, called "wisdom teeth" because they usually become visible when a person is 17 to 25 — supposedly the time we achieve wisdom, may have adverse effects on adjacent teeth. Most adults have four wisdom teeth, although some people have more; and some, none at all. The wisest thing to do about wisdom teeth may be to have them removed if they are poorly positioned.
What is an impacted wisdom tooth?
If a wisdom tooth is pushing against gums, other soft tissues, or adjacent teeth at an awkward angle, it is referred to as "impacted." Usually this occurs when there is not have enough room in the jaws for these last molars to fit next to their adjacent teeth. They can disrupt the gum tissue attachment of their neighboring teeth and the surrounding bone leading to periodontal disease and, ultimately, their loss.
In many cases, impacted teeth are painless, and those who have them have no warning of the problem. Thus it is important to have routine dental exams during the time when the third molars are coming in.
When should wisdom teeth be removed?
It is better to remove wisdom teeth early rather than waiting until periodontal (gum) disease has set in. As individuals age, keeping their wisdom teeth may lead to more serious problems. Periodontal defects tend to get worse in the presence of retained third molars. Furthermore, there is a higher incidence of postoperative symptoms in people over 25.
What are the pros and cons?
Removing impacted third molars can have a negative influence on the periodontal tissues of adjacent second molars. A number of techniques, such as scaling, root planing, and bacterial plaque control, can be used to minimize periodontal problems and promote healthy healing.
Surgical removal of wisdom teeth will involve some mild to moderate post-operative discomfort. Use of aspirin or ibuprofen for a few days after surgery will provide pain relief and control most swelling and symptoms. Antibiotics may be prescribed to ensure infection-free healing. It is important to keep the socket area clean by washing and rinsing with saline or antibacterial rinses. Careful surgery will promote good healing with minimal periodontal consequences to adjacent second molar teeth.
To decide whether your wisdom teeth should be removed, you will need an evaluation to assess the clinical health of the wisdom teeth, the neighboring teeth, and other vital structures. X-ray and digital imaging techniques play an important role in determining the exact position of the wisdom teeth in the jaw. A full assessment and consultation will include all the risks, benefits, likely consequences, and alternative treatment options. This will provide you with the wisdom you need to determine what is best for your wisdom teeth.
To learn more about wisdom teeth, read "To Be or Not to Be: What are the consequences of an impacted wisdom tooth?" Or contact us today to discuss your questions or to schedule an appointment.
By Craig S. Karriker, DMD, PA
April 05, 2013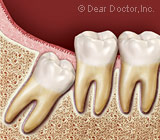 The old saying, "If it ain't broke, don't fix it," doesn't really apply when discussing your wisdom teeth. It's great if they are not bothering you, but don't wait for problems to develop before you take action. This may seem counter-intuitive, but you should know that the best time to have your wisdom teeth removed is when they are not causing problems.
Why do wisdom teeth cause problems?
Wisdom teeth are so-called because they appear at ages 17 to 25, the age of supposedly attaining wisdom. They are also known as third molars and are farthest back in your jaws. For some people they come through the gum-line only partially, or they may not erupt into the mouth at all. Unerupted they have the potential to cause problems associated with the neighboring teeth and surrounding gums.
You may have heard of "impacted" wisdom teeth. This means that they are impacted or forced against neighboring structures, teeth or bone that prevent them from coming into the mouth in correct biting position. Since they are your last teeth to come in, space for them may be severely limited. They may push into the teeth that are already in place, becoming stuck as they try to erupt. When wisdom teeth are trapped like this below the gum line and are pushing against neighboring teeth, these molars can cause problems such as infections, cysts, or gum disease.
My wisdom teeth seem OK, so why remove them?
The dilemma is that if you wait until you feel pain connected with your wisdom teeth, their neighboring teeth may already be in trouble.
Another reason to remove these back teeth before they cause problems is that it's a good idea to have your surgery while you are young. Younger, healthy patients with no infections at the site have the best chance of having their wisdom teeth extracted without complications, with an easier recovery and uneventful healing.
Of course, each situation is different. Make an appointment with us for an examination and a consultation to discuss the risks and benefits of removing your wisdom teeth. For more information read the article "Removing Wisdom Teeth" in Dear Doctor magazine.