Posts for tag: veneers
By Craig S. Karriker, DMD, PA
May 24, 2015
Porcelain veneers represent one of the best values in cosmetic dentistry, capable of radically changing a person's smile with little tooth surface preparation. Still, the small amount of tooth enamel usually removed to accommodate them will permanently alter the affected teeth, to the point they will require a veneer or other restoration from then on.
The traditional veneer has remarkable versatility for solving a number of minor cosmetic problems, correcting mild tooth positioning problems and replacing lost or damaged enamel. But to avoid an unnatural bulky appearance, a portion of the tooth enamel must be permanently removed to accommodate them.
In recent years, though, a new concept known as "prepless veneers" has emerged in the field of cosmetic dentistry. Understandably, this new, "drill-free" veneer application has caused a lot of debate among dentists and patients alike, with concerns of bulky, overly-contoured teeth resulting from the technique. But the concept is growing as many well-regarded dentists have incorporated both minimal prep and prepless veneers into their service offerings.
The prepless veneer offers a cosmetic solution that doesn't alter the tooth permanently. Using techniques such as feathering, which tapers and blends the veneer seamlessly with the tooth at the gum line, we can avoid an unnatural appearance while offering patients a much less invasive outcome.
The main disadvantage of prepless veneers at this time is that they're not appropriate in every case. In fact, careful patient selection is a key to a successful outcome. For example, relatively large teeth or teeth positioned too far forward don't work well with an added layer of thickness.
If, on the other hand, you have small, short or worn teeth, or teeth overshadowed by your lips — just to name a few likely scenarios — then you may benefit immensely from prepless veneers without permanent alteration to your teeth. A detailed examination is your first step to finding out if this new technique could provide you with a less-invasive smile makeover.
If you would like more information on drill-free porcelain veneers, please contact us or schedule an appointment for a consultation. You can also learn more about this topic by reading the Dear Doctor magazine article "Porcelain Veneers without the Drill."
By Craig S. Karriker, DMD, PA
November 19, 2012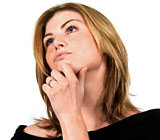 Are you are considering a cosmetic procedure such as porcelain veneers? To assist you in making this decision, we developed the following list of questions you should consider asking before getting porcelain veneers.
Am I a good candidate for porcelain veneers?
Can you show me examples of your work?
How much will my veneers cost?
Will my insurance cover any portion of my procedure?
Do you offer any financing for my procedure or can you make any recommendations for financing?
Can you create a computer-generated image or mock-up of what my new smile will look like?
How will you chose what color to make my veneers?
How long will it take from my initial consultation until I receive my final, permanent veneers?
How much tooth reduction (drilling) will you need to do before placing my veneers?
How do veneers attach to my teeth?
Can you create a prototype or temporary veneers so that I can "test drive" my new smile before my permanent ones are made?
What do I need to do to clean and protect my veneers?
How long can I expect my veneers to last?
If at some point in the future I decide I want my veneers removed, what can I expect?
We hope that the above questions help you obtain all the answers you need as you consider getting porcelain veneers. If you have other questions, concerns, or if you are ready to take the next step and schedule a consultation, please contact our office.
By Craig S. Karriker, DMD, PA
September 18, 2012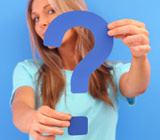 A veneer is a cosmetic dental procedure that we use in some situations to correct discolored teeth, small spaces or gaps between teeth, small chips or oddly shaped teeth, and teeth that are slightly misaligned by placing a thin shell covering over the teeth. They are artistically hand-crafted by lab technicians out of tooth-colored porcelain using precise molds that we have made in our office. We attach veneers to the tooth's surface using a special adhesive that creates a chemical bond. Veneers are often a key component in a smile makeover.
Traditional veneers will require some tooth preparation, a process where we reduce or file down some of the facial (front, visible) portion of your tooth by 0.3 to 0.7 millimeters. For this reason this cosmetic procedure is not reversible.
How Long Do They Last?
Veneers can last from 7 to 20+ years depending on how you care for them. This may include sleeping in a protective, professionally made mouthguard. And while porcelain is a durable material that can withstand a great deal of pressure, you must remember that they are a type of glass. You could possibly shatter a veneer if you bite into anything that requires a hefty amount of twisting movement and biting pressure.
By using the latest technologies and procedures, we will create the naturally beautiful smile of your dreams and we will restore your mouth to full functionality and optimal health. Contact us today to discuss your questions or to schedule a consultation.
Want To Learn More?
Learn more about veneers when you continue reading the exclusive article from Dear Doctor, "Smile Design Enhanced With Porcelain Veneers."