Posts for tag: snoring and sleep apnea
By Craig S. Karriker, DMD, PA
February 15, 2013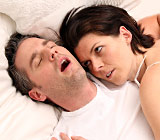 Dentistry has ventured into the new area of sleep medicine by helping snorers — and their exasperated sleeping partners — with custom-made anti-snoring devices. These oral appliances, which resemble orthodontic retainers or sports mouthguards, keep the snorer's airway clear and the bedroom quiet. To see how they work, you have to understand the mechanics of snoring.
Snoring occurs when the upper airway (back of the throat) becomes blocked by the tongue or other soft-tissue structures, such as large tonsils or a long soft palate. The vibrating of these obstacles creates the sound we call snoring.
Snoring is often worse when sleeping on one's back because that position encourages the lower jaw to fall back and the tongue to close off the airway. This is where Oral Appliance Therapy comes in. These custom-fitted devices are designed to keep the upper airway open during sleep by pulling the lower jaw forward, which in turn brings the tongue away from the throat. Dentists, and our office in particular, are the only source for Oral Appliance Therapy.
People who snore should have a thorough examination to rule out Obstructive Sleep Apnea (OSA), a potentially dangerous condition in which airflow can be cut off completely for 10 or more seconds ("a" – without; "pnea" – breath), reducing blood-oxygen levels. Chronic, loud snoring is a common finding with OSA.
Please remember that sleep is an integral part of health and well-being. In fact, we spend about a third of our lives doing it. If you are snoring or have any sleep-related breathing disorders that are waking you or your bed partner, be sure to tell our office. There are plenty of examples of the havoc wreaked by sleep-deprived individuals. Remember the Exxon Valdez?
If you have any questions about Oral Appliance Therapy, please contact us or schedule an appointment for a consultation.
To learn more about the topic of oral appliance therapy, please see the Dear Doctor magazine article "Sleep Disorders & Dentistry."
By Craig S. Karriker, DMD, PA
November 08, 2012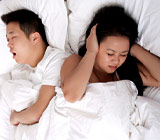 Snoring and Obstructive Sleep Apnea (OSA) is a condition that occurs when the upper airway (back of your throat) collapses or is blocked, causing significant airflow disruption. A person with OSA continues snoring at a regular rate but is interrupted by long silent periods during which there is no breathing for atleast 10 seconds or more. Believe it or not, this issue affects millions of people worldwide. It can leave you feeling tired, depressed, irritable, as well as cause memory loss and poor concentration. And if you have OSA that is left undiagnosed and untreated you could fall victim to heart attacks, strokes, irregular heartbeat, high blood pressure, heart disease and even impotence. For these reasons, we feel it is important that you understand the real-world consequences that can occur if you ignore your OSA.
Reality is that most people are unaware that their dentist can be an excellent resource in helping to diagnose and treat OSA. However the first and most important step is to receive a proper, thorough examination and diagnosis with an appropriately trained physician and dentist. If after completing this process you are diagnosed with OSA, we will discuss treatment options. Some of these may include:
Suggesting that you exercise and lose weight if you are overweight.
Sleeping with a Continuous Positive Airway Pressure (CPAP) machine that provides pressurized air into your airways through a mask that covers both your nose and mouth while sleeping.
Sleeping with a professionally made oral appliance or mouthguard that can reposition your lower jaw, tongue, soft palate and uvula (the dangling tissue in the top, back portion of your mouth) into a better position during sleep to relieve blockage.
If you are ready to discuss you questions and concerns about your snoring, or the snoring habits of another family member, contact us today to schedule a consultation. You can also learn more about the signs, symptoms, and treatment options when you read "Snoring & Sleep Apnea."