Posts for tag: fluoride
By Craig S. Karriker, DMD, PA
January 20, 2018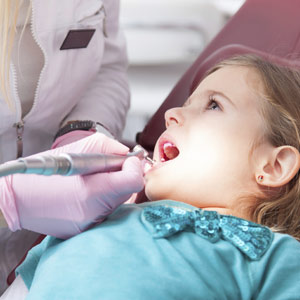 Your family uses fluoride toothpaste and your drinking water is fluoridated too. So with the fluoride your child already takes in, is it really necessary for topical fluoride treatments during their regular dental visits?
The answer is most definitely. Fluoride has a unique ability to strengthen enamel, your teeth's protective cover against decay and other diseases. It does this by infusing itself in the enamel structure and making it that much more resistant to acid attack and decay.
This infusion occurs in two ways. First, growing teeth obtain it through the bloodstream as they incorporate other minerals that make up the enamel structure. The very small amount of fluoride added to drinking water — as low as one part per million (ppm) — imparts sufficient fluoride to developing teeth. In the absence of fluoridated water, dietary fluoride supplements can achieve the same effect.
The second way is just after the teeth have erupted and are still quite young. In this case, fluoride coming in direct contact with the enamel surface is absorbed, resulting in changes to the enamel's crystalline structure that will create added strength. This can occur to a limited degree through fluoride toothpaste or other dental products. The concentration of fluoride in these products, though, is relatively low (850-1500 ppm) as mandated by the U.S. Food and Drug Administration for safety.
Professional applications, on the other hand, are much higher — 12,300 to 22,600 ppm depending on their form. They're applied, of course, under strict clinical guidelines to cleaned tooth surfaces, usually as a gel, foam or varnish. The latter form will often continue leaching fluoride into the enamel for a month or more.
These topical applications can greatly strengthen the teeth of children who don't have the benefit of fluoridated water or may be at higher risk for dental disease because of socio-economic conditions. But they can still be helpful for children with adequate fluoride exposure and low risk factors for disease. At the very least, fluoride treatments can give your child an added boost of protection as their teeth continue to develop.
If you would like more information on topical fluoride treatments for children, please contact us or schedule an appointment for a consultation. You can also learn more about this topic by reading the Dear Doctor magazine article "Topical Fluoride."
By Craig S. Karriker, DMD, PA
August 08, 2016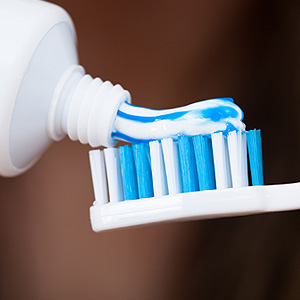 In the last half century, fluoride has become an effective weapon against tooth decay. The naturally occurring mineral helps strengthen enamel, the teeth's hard, protective cover.
Although it's safe for consumption overall, too much during early tooth development can lead to fluorosis, a brownish, mottled staining in enamel. To avoid it, a child's daily consumption of fluoride should optimally be kept at around 0.05-0.07 milligrams per kilogram of body weight, or an amount equal to one-tenth of a grain of salt per two pounds of weight.
The two main therapeutic fluoride sources have limits to help maintain this balance: utilities that fluoridate drinking water are required to add no more than 4 parts fluoride per million (ppm) of water; toothpaste manufacturers likewise only add a small amount of fluoride compared to clinical gels and pastes dentists apply to teeth for added decay protection.
But drinking water and toothpaste aren't the only sources of fluoride your child may encounter. Even if you have a non-fluoridated water supply, you should still keep a close watch on the following items that could contain fluoride, and discuss with us if you should take any action in regard to them.
Infant formula. The powdered form especially if mixed with fluoridated water can result in fluoride concentrations 100 to 200 times higher than breast or cow's milk. If there's a concern, use fluoride-free distilled or bottled spring water to mix formula.
Beverages. Many manufacturers use fluoridated water preparing a number of packaged beverages including sodas (two-thirds of those manufactured exceed .6 ppm), soft drinks and reconstituted fruit juices. You may need to limit your family's consumption of these kinds of beverages.
Certain foods. Processed foods like cereals, soups or containing fish or mechanically separated chicken can have high fluoride concentrations, especially if fluoridated water was used in their processing. When combined with other fluoride sources, their consumption could put children at higher risk for fluorosis.
Toothpaste. Although mentioned previously as a moderate fluoride source, you should still pay attention to how much your child uses. It doesn't take much: in fact, a full brush of toothpaste is too much, even for an adult. For an infant, you only need a smear on the end of the brush; as they grow older you can increase it but to no more than a pea-sized amount.
If you would like more information on fluoride and how it strengthens teeth, please contact us or schedule an appointment for a consultation. You can also learn more about this topic by reading the Dear Doctor magazine article "Fluoride & Fluoridation in Dentistry."
By Craig S. Karriker, DMD, PA
October 11, 2012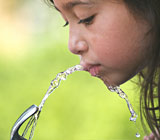 We know from research extending back to the 1930s that very small amounts of fluoride in drinking water can significantly reduce dental caries (cavities) with no negative health effects. Fluoridated water is currently available to 70% of all Americans. However, we have also learned that excess fluoride from combined sources can result in staining of teeth called "fluorosis."
What is the optimum fluoride concentration for healthy teeth?
A fluoride concentration of about 0.7-1.20 milligrams per liter (mg/L), or .7 to 1.2 ppm (parts per million), in the water supply seems to be optimum for dental health without causing negative effects. This concentration is about the same as a grain of salt in a gallon of water. An amount of 1 ppm was originally considered the safe standard, but since today Americans have access to more sources of fluoride than they did when water fluoridation was first introduced, the recommended amount has been reduced to .7 mg/L or .7 ppm.
The crucial amount to measure is the quantity of fluoride that is swallowed. Generally, the optimal level of fluoride per day from all sources is thought to be about .06 milligrams per kilogram of body weight, or about a sixth of the weight of a grain of salt for every two pounds of body weight.
It is probably not possible to calculate the precise amount of fluoride each person ingests per day, because the amount depends on more than just the amount of tapwater you drink. Bottled waters, soft drinks and juices also contain fluoride. Breast milk and cow's milk are very low in fluoride, but infant formulas may contain higher levels. Foods found to have high fluoride content include teas, dry infant cereals and processed chicken, fish and seafood products. Toothpaste can contribute to a child's total fluoride intake if the child swallows it.
What are the effects of too much fluoride?
Dental fluorosis produces a "mottling" of the outer coating of the tooth, the enamel. Mottling may show as staining ranging from small white striations to stained pitting and severe browning of the enamel surface.
The first six to eight years of life is the most risky time for development of dental fluorosis. Parents need to monitor their children to make sure they use small amounts of fluoride toothpaste (an amount the size of a pea on the brush is recommended). Watch for white spots on the enamel (hard outside coating) of your child's teeth. White spots from fluorosis mean it is time to pay attention to how much fluoride your child is getting from various sources, and to cut back on the total. You want fluoride's protection against cavities for your child's teeth, without the unsightliness of dental fluorosis from too much fluoride.
Contact us today to schedule an appointment to discuss your questions about fluoride. You can also learn more by reading the Dear Doctor magazine articles "Fluoride & Fluoridation in Dentistry" and "New Fluoride Recommendations."