Posts for tag: dental care
By Craig S. Karriker, DMD, PA
December 22, 2020

You know you should see the dentist about that nagging tooth or gum problem, but you keep putting it off. Truth be told, you're a little nervous that your treatment visit might be unpleasant.
In one sense, your concern isn't unreasonable: The teeth and gums abound in nerves that are more than effective in signaling pain. Even minor dental procedures can trigger discomfort. In another sense, though, there's no need to worry, thanks to pain-numbing techniques using local anesthesia.
The term "local" is used because the applied anesthetic only affects the area and surrounding tissues needing treatment. The anesthetic drugs temporarily block nerve electrical impulses from transmitting pain signals to the brain. Unlike general anesthesia, which requires placing a patient in an unconscious state, a patient can be awake, yet feel no sensation around the anesthetized tissue.
Dentists typically use a two-step method to prevent patients from feeling any pain during a procedure. First, they apply a topical local anesthetic to the surface of the gums. Once these top layers have been numbed, they numb the underlying tissues by injecting the anesthetic with a needle. The goal of a topical application is to ensure the patient doesn't feel the prick of the needle used for deep tissue anesthesia.
Dentists follow strict protocols using anesthesia that have been developed over several decades. As a result, local anesthesia has revolutionized dental care and greatly reduced patient discomfort safely and effectively. Its effectiveness has in fact led to a common complaint that the numbness may linger long afterwards. But that also has been addressed with better combinations of anesthetic drugs to reduce the duration of the numbing effect.
And not only does local anesthesia make for a more relaxing and pleasant experience, it also benefits the dental provider. Dentists tend to work more efficiently when they know their patients aren't in discomfort, which can result in better treatment outcomes.
If you've been putting off a trip to the dentist because you think it might be painful or uncomfortable, put those concerns to rest. With the help of local anesthesia, dental treatment can be relaxing and pain-free.
If you would like more information on having a pain-free experience at the dentist, please contact us or schedule an appointment for a consultation. You can also learn more about this topic by reading the Dear Doctor magazine article "Local Anesthesia for Pain-Free Dentistry."
By Craig S. Karriker, DMD, PA
January 29, 2018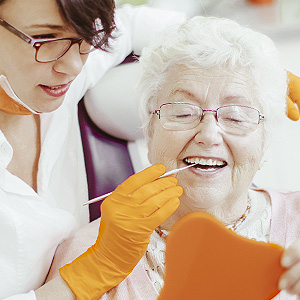 While some aspects of regular dental visits are much the same for everyone, they can be more involved for an older adult. That's because people later in life face an increased risk of dental disease and other age-related issues.
If you're a caregiver for an older adult, you'll want to be aware of these heightened risks. Here are 4 areas of concern we may check during their next regular dental visit.
Oral cancer. While it can occur at any age, cancer is more prevalent among older adults. Although rarer than other cancers, oral cancer's survival rate is a dismal 50% after five years. This is because the disease is difficult to detect early or is misidentified as other conditions. To increase the odds of early detection (and better survival chances) we may perform a cancer screening during the visit.
Dental disease. The risks for tooth decay and periodontal (gum) disease also increase with age. A primary risk factor for older people is a lack of adequate saliva (the mouth's natural disease fighter) often caused by medications or systemic conditions. We'll watch carefully for any signs of disease, as well as assess their individual risk factors (including medications) for decreased oral health.
Dentures. If they wear dentures, we'll check the appliance's fit. While dentures can wear with use, the fit may also grow loose due to continuing bone loss in the jaw, a downside of denture wearing. We'll make sure they still fit comfortably and aren't stressing the gums or supporting teeth. It may be necessary to reline them or consider replacing them with a new set.
Oral hygiene. Brushing and flossing are just as important for older adults as for younger people for preventing dental disease, but often more difficult due to mental or physical impairment. We can note areas of bacterial plaque buildup and recommend ways to improve their hygiene efforts.
Depending on how well your older adult can care for themselves, it may be advisable for you to come with them when they visit us. Our dental team can provide valuable information and advice to help you help them have a healthier mouth.
If you would like more information on dental care for older adults, please contact us or schedule an appointment for a consultation. You can also learn more about this topic by reading the Dear Doctor magazine article "Aging & Dental Health."
By Craig S. Karriker, DMD, PA
July 23, 2014
As our profession advances, we dental professionals continue to find the biggest factor for successful outcomes is an informed patient. The more you know about your own teeth and gums, the greater your chance for a healthy outcome.
Regular dental care is fundamental to becoming informed. Your regular office visits and cleanings are an opportunity for us to "get real" — for you to learn the unvarnished truth about your dental issues and the reasons why you need to consider some options regarding your oral health. We also need to be just as realistic about what can or can't be done to improve your situation and the cost involved.
The best way to approach this is to develop a plan based on managing risk. Risk is essentially weighing anything we may potentially lose against the solutions for not losing it. In dentistry, we look at risk in four basic areas: periodontal, the threats to structures like gums, ligaments and bone that support the teeth; biomechanical, the threats to the structural integrity of teeth such as decay, enamel erosion or fracture; functional, problems that can arise with how the teeth, muscles and jaw joints work together; and aesthetic, the impact of all these threats to the outward appearance of your smile.
Once we know the risks you're facing, we then determine the best treatment approach for managing the risk based on costs and potential outcomes. For example, if you're diagnosed with gum disease, you're at risk for losing supporting bone and, ultimately, the affected teeth. Our primary goal is to prevent that loss from occurring through plaque and calculus removal that slow or stop the disease and allow affected tissues to heal. But if the disease has advanced and you've already experienced bone or even tooth loss, we may then need to modify our treatment goal by including gum surgery or tooth replacement options like dental implants.
Using a risk management approach helps us identify what needs to be treated and the most reasonable and achievable options for treating it. The foundation for this approach is prevention — stopping problems before they start or progress. Developing and maintaining this kind of action plan will help reduce your ultimate costs — emotional, social and financial.
If you would like more information on dental treatment planning, please contact us or schedule an appointment for a consultation. You can also learn more about this topic by reading the Dear Doctor magazine article "Successful Dental Treatment."