Posts for tag: clear aligners
By Craig S. Karriker, DMD, PA
March 22, 2020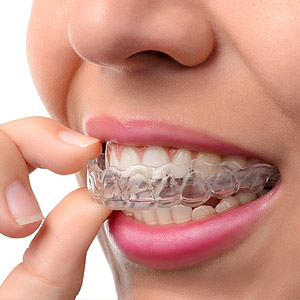 Your teenager is about to take a big step toward better health and a more attractive appearance — orthodontic treatment. You both know the benefits: better chewing function, lower risk of dental disease, and, of course, a straighter and more beautiful smile.
But your teen might also dread the next couple of years of wearing braces. And it's hard to blame them: although they're effective, wearing braces restricts eating certain snacks and foods, they require extra time and effort for brushing and flossing, and they're often uncomfortable to wear. And of high importance to a teenager, they may feel embarrassed to wear them.
But over the last couple of decades a braces alternative has emerged: clear aligners. This form of bite correction requires fewer food restrictions, allows greater ease in hygiene, and is considered more attractive than braces. In fact, most observers won't notice them when a wearer smiles.
Clear aligners are a series of clear plastic trays created by computer that are worn in a certain sequence. During wear each tray exerts pressure on the teeth to gradually move them in the desired direction. The patient wears a single tray for two weeks and then changes to the next tray in the sequence, which will be slightly different than the previous tray. At the end of the process, the teeth will have been moved to their new positions.
Clear aligners aren't appropriate for all bite problems. When they are, though, they offer a couple of advantages over braces. Unlike braces, a wearer can remove the aligner to brush and floss their teeth or for rare, special or important social occasions. And, of course, their appearance makes them less likely to cause embarrassment while wearing them.
In recent years, design improvements have increased the kinds of bites aligners can be used to correct. For example, they now often include "power ridges," tiny features that precisely control the amount and direction of pressure applied to the teeth. They've also become thinner and more comfortable to wear.
If you're interested in clear aligners as a treatment option, talk with your orthodontist about whether your teen is a good candidate. If so, they could make orthodontic treatment for achieving a more attractive and healthy smile less of an ordeal.
If you would like more information on clear aligners as an orthodontic option, please contact us or schedule an appointment for a consultation. You can also learn more about this topic by reading the Dear Doctor magazine article "Clear Aligners for Teens."
By Craig S. Karriker, DMD, PA
June 13, 2013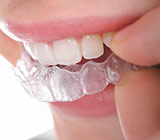 Metal braces are often considered a rite of passage for teenagers whose teeth need straightening. While some teens have no problem with this, others are more self-conscious and would like a less noticeable and less restrictive form of orthodontic treatment ("ortho" – to straighten; "odont" – teeth). After all, traditional braces can sometimes require diet modification, regular tightenings can cause discomfort, and the hardware itself can irritate the inside of the mouth. All of these things can limit a teen's ability to function normally during an already difficult stage of life.
That's why many teens today are opting for removable clear aligners, which have been popular with adults for years. In this system of orthodontic treatment, transparent, flexible, plastic "trays" are custom-made to move an individual's teeth into better alignment in a step-by-step fashion. Each tray moves the teeth a little bit further, according to a precise plan developed with specialized computer software by an orthodontist, or a general dentist who has received special training. It's not available from every dentist, but we are happy to be able to offer it here.
It used to be that clear aligners were not recommended for teens for two main reasons. For one thing, because they are removable rather than attached to the teeth, it was assumed a teenager would not be as conscientious as an adult about wearing them nearly 24 hours a day, which is necessary to achieve the desired results. Now, however, clear aligners for teens have colored "compliance indicators" that fade over time. With this new tool, dentists and parents — and teens themselves — can monitor compliance and progress.
The other main problem in prescribing clear aligners for teens had been that their second molars are still growing into position. This problem, too, has been solved. Clear aligners now have "eruption tabs" that serve as space-holders for teeth that have yet to grow in.
Finally, in recent years, improvements have been made to the whole clear aligner system that allow it to be used for more serious malocclusions (bad bites). So it's actually a viable option for more orthodontic patients in general — teens as well as adults.
If you would like to learn more about clear aligners for your teenager, please contact us or schedule an appointment for a consultation. You can also find out more in the Dear Doctor magazine article "Clear Aligners For Teenagers."