Posts for tag: bridgework
By Craig S. Karriker, DMD, PA
January 26, 2021

What a difference forty years can make: Dental bridges once occupied the top spot for choices to replace missing teeth until the arrival of dental implants in the 1980s. Today, dental implants are the gold standard for dental restoration.
But although bridgework may have lost "first chair" in the orchestra of restorations, it's still a viable option. In fact, it can be the best option in certain situations.
Bridges consist of a series of porcelain crowns fused together like fence pickets. The center crowns, known as the pontics, "bridge" the gap left by a missing tooth or teeth. The crowns on each end, the abutment teeth, crown the natural teeth on either side of the gap to support the bridge.
Bridges are effective and durable, but with a major downside: To accommodate the abutment crowns, we must reduce the size of the natural teeth to which they'll be attached. This alteration can weaken those teeth's structure and require them from then on to have some form of restoration. They're also at higher risk for tooth decay.
Implants, on the other hand, don't require this alteration, and may also be more durable than bridges. Why then consider a bridge?
Price can be a factor: Implants may be more expensive, especially involving multiple teeth. Keep in mind, though, that this only compares the initial cost: Because implants have a 95% or more ten-year success rate, with further evidence they could potentially last for decades, they may actually cost less in the long-run than bridge restorations that have a higher chance of being replaced sooner.
But the prime reason is that some dental situations aren't suitable for dental implants. For instance, implants require a certain amount of bone for proper placement, so people with extensive bone loss may not be able to acquire them. Health conditions like uncontrolled diabetes or a compromised immune system can also complicate implant installation. A bridge in these cases may represent a better alternative.
With the help of your dentist, you'll need to consider your individual situation, dental and financial, in deciding between an implant or a bridge. And, if a dental bridge is your best option, it will be a solid choice for restoring your missing teeth and your smile.
If you would like more information on various dental restoration methods, please contact us or schedule an appointment for a consultation. You can also learn more about this topic by reading the Dear Doctor magazine article "Crowns & Bridgework."
By Craig S. Karriker, DMD, PA
January 24, 2014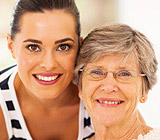 Americans today can expect to have a longer lifespan than ever before. And, as our population ages, our concern is no longer just longevity… it becomes, in addition, the quality of life. These days, the task of helping an older person — perhaps a parent, relative, or friend — to maintain a good quality of life often falls to adult children or others in the extended family. These caregivers have a crucial role in deciding how best to provide for an older person's care.
Eating a healthful diet, getting moderate exercise and having an invigorating social life are factors that can improve quality of life for a person of any age. But we would propose adding one more item: keeping a healthy smile. By age 74, about one in four people have lost all of their permanent teeth. Many more have failing teeth, or only a few teeth remaining. According to actuarial tables, these folks can expect to live, on average, to age 86 — and some will live much longer. That's a long time to go without good replacement teeth.
The Old School: Bridges and Dentures
What's the best method of tooth replacement? The answer depends on several factors. If just a small number of teeth are missing, the best options available are a fixed bridge (also called a fixed partial denture) or a dental implant. If most or all teeth are failing or lost, either complete or partial removable dentures, or implants, may be considered. We'll come back to implants later, but let's look at other methods first.
The dental bridge is a traditional method of closing a gap in your smile — but it has some drawbacks. It requires crowning or "capping" healthy teeth on either side of the gap, so they can be used to anchor a series of prosthetic teeth. This means a significant amount of tooth material must be removed from "good" teeth, which may leave them more susceptible to decay. Root canal treatment may also be required. A bridge can make gum disease more likely, and it is generally expected to need replacement in about ten years.
Removable dentures, both complete and partial, have been around even longer than bridges — in fact, they go back centuries. Denture problems, too, are legendary: They include problems with chewing and speaking, unpleasant smells and tastes, the inability to eat many favorite foods, and the tendency of dentures to become loose and ill-fitting over time. Many of these problems force a person to make compromises in their lifestyle; the last one, however, points to a serious flaw with dentures.
When teeth are lost, the underlying bone in the jaw begins to be resorbed (melted away) by the body's natural processes. This causes the jawbone to become weaker — and, as support for the facial features is lost, it can result in the appearance of premature aging. Dentures don't stop bone loss, in fact, they accelerate it. When dentures stop fitting properly, it's evidence of the process of bone loss at work.
A Modern Solution: Dental Implants
There's a great way to stop bone loss and restore teeth to full function: the dental implant. Whether it's a single tooth or an entire set of teeth that are missing, dental implants are the new gold standard for tooth replacement. Because of the way they become fused with the living bone tissue of the jaw, implants stop bone loss form occurring. They "feel" and function like natural teeth — and they can be almost impossible to tell from the real thing.
A single missing tooth can be replaced by one dental implant, where a bridge would require a minimum of three prosthetic teeth (one for the missing tooth, and two for the supports). On the other hand, an entire arch (top or bottom row) of replacement teeth can be anchored by just four to six implants. And, with regular care, implants can last a lifetime.
So if you're helping someone choose between different methods of tooth replacement, be sure to consider the advantages of dental implants. It's an investment in quality — both the quality of the implant itself, and the enhanced quality of life it provides. If you would like more information, or wish to schedule a consultation, please call our office. You can learn more in the Dear Doctor magazine articles "Dental Implants" and "Removable Full Dentures."
By Craig S. Karriker, DMD, PA
December 05, 2012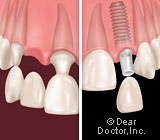 When it comes to replacing missing teeth, we have numerous options. However, two of the most common treatment options include bridgework and dental implants. See how much you really know about dental implants and bridgework by taking our quick and easy true/false self test.
When it comes to costs, dental implants may initially cost more than bridgework but are less expensive than bridgework over a lifetime.
True or False
Both bridgework and dental implants can last a lifetime when properly maintained.
True or False
Prior to placing a three-unit fixed bridge, if the surrounding teeth have crowns, they must be redone so that the bridge fits and wears properly.
True or False
Replacing a single tooth with a three-unit bridge, requires removing the enamel on the adjacent teeth even if these teeth are disease-free.
True or False
In addition to being permanent tooth replacements, another advantage of dental implants is that they don't decay like teeth supporting bridgework.
True or False
It is not uncommon for root canal treatment to be required to save teeth that support bridgework if they have been subjected to severe decay and their nerves become infected.
True or False
Placing a dental implant requires more time when compared to placing a three-unit bridge.
True or False
Both bridgework and dental implants require minor surgery to replace a missing tooth.
True or False
Dental implants are more desirable than bridgework because placing them does not affect the adjacent teeth.
True or False
Studies indicate that bridges are only 67% successful at 15 years whereas dental implants have success rates into the 90s.
True or False
Answers: 1) True. This fact shocks many people. 2) False. This is more commonly true for dental implants. 3) True. 4) True. This is one of the disadvantages of bridgework. 5) True. This is just one of the advantages of a dental implant. 6) True. 7) True. 8) False. Dental implants require surgery to be placed. 9) True. This fact is a significant advantage for dental implants. 10) True. Your results may vary; however, this statistic represents what you might expect.
To learn more, continue reading the Dear Doctor magazine article "Implants vs. Bridgework." Or, you can contact us today to schedule an appointment or to discuss your questions.