Posts for: June, 2013
By Craig S. Karriker, DMD, PA
June 26, 2013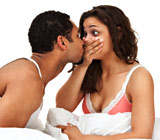 Nobody wants "halitosis," commonly known as bad breath. Americans spend an estimated $3 billion per year on breath freshening products like candies, chewing gum and sprays, but that really just masks the problem. Bad breath is clearly a major concern. Treating bad breath effectively means understanding and treating what causes it.
And The Top Ten Main Causes of Bad Breath Are:
You just woke up — because saliva flow is reduced during the night, it is normal to wake up with a dry mouth and "morning breath."
It was something you ate — garlic, onions, coffee, alcohol, spicy foods and more — are common causes — luckily they are temporary. Brushing, flossing and mouthrinses may help.
It was because you didn't eat — fasting can result in bad breath. In hunger, especially starvation, a person's breath may actually smell like nail polish remover (acetone). This comes from ketones that are produced as the body metabolizes fat for energy production.
"Xerostomia," literally dry mouth — from plain old dehydration, and certainly many medications can cause dry mouth leading to bad breath. Drinking sufficient quantities of water is helpful and important.
Smoker's breath — If you are a smoker, the telltale odor lingers — for days and weeks. Try quitting for multiple health benefits.
Ineffective oral hygiene — buildup of food remnants and bacteria on and between your teeth and gums is a prominent cause of bad breath.
Bacterial accumulation on the back of your tongue — large numbers of bacteria accumulating in the nooks and crannies, where they may give off volatile sulfur compounds (VSCs), which have an odor reminiscent of rotten eggs.
You may have tooth decay or periodontal (gum) disease — one of the main causes of bad breath is gum disease. Studies have shown that the more VSCs a person has on their breath, the more likely it is that they have gum disease. Openly decayed teeth can also be a cause of bad breath.
You may have a problem with your nose or tonsils — Nasal odors exhaled from the nose and mouth may be a result of sinus infections, foreign bodies, or infections of your tonsils.
Serious health conditions — like diabetes, lung disease and cancer can also be systemic (general body causes of bad breath) that do not emanate from the mouth.
Because some of these problems are serious and need treatment, don't just try to cosmetically camouflage bad breath. Make every effort to remove the film of bacteria (plaque) from your teeth and gums every day; if this does not cure your bad breath, contact us for an assessment, diagnosis, and treatment.
Contact us today to schedule an appointment or to discuss your questions about bad breath. You can also learn more by reading the Dear Doctor magazine article "Bad Breath: More than just embarrassing."
By Craig S. Karriker, DMD, PA
June 13, 2013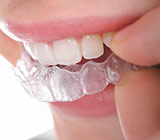 Metal braces are often considered a rite of passage for teenagers whose teeth need straightening. While some teens have no problem with this, others are more self-conscious and would like a less noticeable and less restrictive form of orthodontic treatment ("ortho" – to straighten; "odont" – teeth). After all, traditional braces can sometimes require diet modification, regular tightenings can cause discomfort, and the hardware itself can irritate the inside of the mouth. All of these things can limit a teen's ability to function normally during an already difficult stage of life.
That's why many teens today are opting for removable clear aligners, which have been popular with adults for years. In this system of orthodontic treatment, transparent, flexible, plastic "trays" are custom-made to move an individual's teeth into better alignment in a step-by-step fashion. Each tray moves the teeth a little bit further, according to a precise plan developed with specialized computer software by an orthodontist, or a general dentist who has received special training. It's not available from every dentist, but we are happy to be able to offer it here.
It used to be that clear aligners were not recommended for teens for two main reasons. For one thing, because they are removable rather than attached to the teeth, it was assumed a teenager would not be as conscientious as an adult about wearing them nearly 24 hours a day, which is necessary to achieve the desired results. Now, however, clear aligners for teens have colored "compliance indicators" that fade over time. With this new tool, dentists and parents — and teens themselves — can monitor compliance and progress.
The other main problem in prescribing clear aligners for teens had been that their second molars are still growing into position. This problem, too, has been solved. Clear aligners now have "eruption tabs" that serve as space-holders for teeth that have yet to grow in.
Finally, in recent years, improvements have been made to the whole clear aligner system that allow it to be used for more serious malocclusions (bad bites). So it's actually a viable option for more orthodontic patients in general — teens as well as adults.
If you would like to learn more about clear aligners for your teenager, please contact us or schedule an appointment for a consultation. You can also find out more in the Dear Doctor magazine article "Clear Aligners For Teenagers."