Posts for: May, 2013
By Craig S. Karriker, DMD, PA
May 30, 2013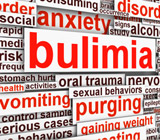 In recent years, the number of teenagers with eating disorders has increased dramatically. According to the National Association of Anorexia Nervosa and Associated Disorders (ANAD), as many as 24 million Americans suffer from some form of eating disorder and 95% of those who have eating disorders are between the ages of 12 and 25.
There are many long-term problems associated with eating disorders, including osteoporosis, infertility and anemia. Another unfortunate side-effect involves dental health. If your child suffers from bulimia nervosa, an eating disorder characterized by a cycle of food binges and vomiting, his or her teeth may show signs of tooth erosion.
Tooth erosion occurs when the tooth surface loses enamel after exposure to acid. It affects more than 90% of individuals with bulimia and 20% of individuals with anorexia nervosa, a disorder that involves starvation. There is often overlap between the two diseases — those with anorexia may sometimes binge and purge, and those with bulimia may try to restrict their food.
Each disorder results in dental diseases for different reasons. In bulimia, tooth erosion is caused by vomit, which is highly acidic and damaging. The frequency that a person engages in this activity will determine how much the teeth are affected. Usually, we will notice this erosion on the upper front teeth. In more severe cases, the salivary glands can become enlarged, causing puffiness on the side of the face. Anorexics, on the other hand, may have dental problems because they are often negligent about grooming and hygiene in general, including oral hygiene.
Every time your teenager visits our office, we will conduct a thorough examination, which includes looking out for the specific signs of eating disorders. If we do find that your teenager has severe tooth erosion, we'll be sure to discuss our findings with you. We may recommend a sodium fluoride mouth rinse to strengthen tooth enamel and reduce its loss. Most importantly, you should speak with your child and seek guidance from a professional to help deal with the issue.
If you would like more information about eating disorders and oral health, please contact us or schedule an appointment for a consultation. You can also learn more by reading the Dear Doctor magazine article "Bulimia, Anorexia and Oral Health."
By Craig S. Karriker, DMD, PA
May 15, 2013
We all know that dentistry can do amazing things these days to give you the smile you've always dreamed of. With the latest cosmetic and restorative dental techniques, it is possible to achieve amazingly natural-looking results. But how do we map out the best route to a better smile? And how do we know that the results will hold up over time?
Every individual has a unique set of conditions in his or her mouth and it is our job to figure out how you have come to your present state, dentally speaking. We need to correct or at least manage any factors that could risk the success of your treatment. These risk factors fall into four basic categories:
Periodontal Risk — This involves the condition of the structures that support your teeth, including your gum and bone tissue. It's important to establish good periodontal health before we perform any restorative or cosmetic procedures.
Biomechanical Risk — This has to do with the structural integrity of your teeth. We will look at whether any tooth structure has been lost due to decay, and take steps to reduce your susceptibility to decay if necessary.
Functional Risk — This relates to your bite: how your teeth, muscles and jaw joints are functioning. For example, do you have excessive tooth wear or joint pain? If so, you are at a higher risk in this category and we need to figure out why.
Aesthetic Risk — This is the most subjective of the categories as beauty is in the eye of the beholder. Still, if you display a lot of your teeth and gums when you smile, any issues you have (gum recession, for example) will be that much more visible and affect your smile more. We will have to take this into account when we plan your treatment.
Only when we have determined how best to minimize your risk in all four of these categories can we restore or enhance your smile in a way that will not only look great but also last as long as possible.
If you have any questions about cosmetic or restorative dental treatment, please contact us to schedule an appointment for a consultation.