What Our Office Can Do About Your Snoring or Sleep Apnea
What Our Office Can Do About Your Snoring or Sleep Apnea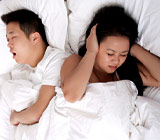 Snoring and Obstructive Sleep Apnea (OSA) is a condition that occurs when the upper airway (back of your throat) collapses or is blocked, causing significant airflow disruption. A person with OSA continues snoring at a regular rate but is interrupted by long silent periods during which there is no breathing for atleast 10 seconds or more. Believe it or not, this issue affects millions of people worldwide. It can leave you feeling tired, depressed, irritable, as well as cause memory loss and poor concentration. And if you have OSA that is left undiagnosed and untreated you could fall victim to heart attacks, strokes, irregular heartbeat, high blood pressure, heart disease and even impotence. For these reasons, we feel it is important that you understand the real-world consequences that can occur if you ignore your OSA.
Reality is that most people are unaware that their dentist can be an excellent resource in helping to diagnose and treat OSA. However the first and most important step is to receive a proper, thorough examination and diagnosis with an appropriately trained physician and dentist. If after completing this process you are diagnosed with OSA, we will discuss treatment options. Some of these may include:
Suggesting that you exercise and lose weight if you are overweight.
Sleeping with a Continuous Positive Airway Pressure (CPAP) machine that provides pressurized air into your airways through a mask that covers both your nose and mouth while sleeping.
Sleeping with a professionally made oral appliance or mouthguard that can reposition your lower jaw, tongue, soft palate and uvula (the dangling tissue in the top, back portion of your mouth) into a better position during sleep to relieve blockage.
If you are ready to discuss you questions and concerns about your snoring, or the snoring habits of another family member, contact us today to schedule a consultation. You can also learn more about the signs, symptoms, and treatment options when you read "Snoring & Sleep Apnea."
This website includes materials that are protected by copyright, or other proprietary rights. Transmission or reproduction of protected items beyond that allowed by fair use, as defined in the copyright laws, requires the written permission of the copyright owners.