Success with Dental Implants Depends on Attention to Detail
Success with Dental Implants Depends on Attention to Detail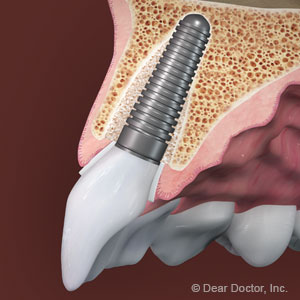 Dental implants are all the rage. And why not — not only are these tooth replacements life-like and highly functional, they have an amazing 95% ten-year success rate.
Some of that success is due to their unique design. Technically a root replacement, an implant's metal titanium post is surgically placed in the jawbone, where bone grows and adheres to it over time. This creates a strong connection that stands up well to the forces created by biting and chewing.
But there's more to their longevity than design. Success also depends on a careful, planned process that begins long before surgery.
It starts with a detailed oral examination to determine the best placement for the implant. Besides regular x-rays, we may also perform CT scans to create a three-dimensional view of your jaw. With this we can locate and avoid nerves, sinus cavities or other structures near the implant site.
The examination also helps us determine if you've experienced any bone loss, a normal occurrence after tooth loss. Implants require an adequate amount of bone to achieve the best position. A good position ensures future bone integration and the best appearance result.
The same attention to detail extends to the actual surgery to place the implant. We fashion the site to receive the implant by sequentially drilling larger tapered channels until we achieve the right size fit for the implant. During drilling we avoid overheating the bone, which could ultimately weaken and damage the implant's stability.
We'll also need to provide protection for the implant while it integrates with the bone. In most implantations, we do this by suturing the gum tissue over the implant. We take a different approach with a "Tooth in a Day" procedure where we attach a crown (the visible portion of the tooth) right after implant surgery. In this case we'll install a crown (which is actually temporary) that's a little shorter than the adjacent teeth. The natural teeth around it will absorb the forces produced while chewing and not the implant crown.
Focusing on these and other factors will greatly reduce the risk of implant failure. Paying careful attention to them helps ensure your new smile is a lasting one.
If you would like more information on dental implants to restore your smile, please contact us or schedule an appointment for a consultation. You can also learn more about this topic by reading the Dear Doctor magazine article "Dental Implants: A Tooth Replacement Method That Rarely Fails."
This website includes materials that are protected by copyright, or other proprietary rights. Transmission or reproduction of protected items beyond that allowed by fair use, as defined in the copyright laws, requires the written permission of the copyright owners.