Enhance Your Smile Through Teeth Whitening
Enhance Your Smile Through Teeth Whitening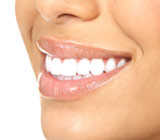 In modern society, a bright, white smile conveys optimal health, youth and sound teeth. However, various influences including age, wear, diet, and lifestyle may prevent you from having and maintaining the glistening smile you long to share with the world. Luckily, there are many safe, inexpensive, and successful treatment options for discolored or stained teeth.
We can perform a "power bleaching" in our office to whiten teeth that are severely stained or discolored. This procedure whitens the external surfaces of the teeth by using a high concentration (35-45%) hydrogen peroxide solution, which is sometimes activated by a specialized light. To prevent irritation of the mouth's soft tissue lining during this procedure, we will isolate your gums and membranes with a rubber dam, a silicone or other effective barrier. Professionally applied in-office power bleaching provides control, speed, and predictability capable of lightening teeth up to ten shades in an hour. Don't try this at home! Our staff will take precautions in the office to avoid side effects and possible tooth sensitivity.
We can also provide you with custom-made, vacuum-formed, plastic bleaching trays for use with a take-home whitening application. In this instance, a gel made from carbamide peroxide (4-7% hydrogen peroxide, safe for home use) is delivered to the tooth surfaces in the bleaching trays. You will need to wear the tray for 30 minutes twice a day, which is a longer process than in-office bleaching. The first subjective signs of whitening will occur after three or four sessions, allowing whitening of up to eight shade units.
Another home-based option, whitening strips, essentially look like band-aids for the teeth. They are capable of lightening teeth by about three shades after being worn directly on the surface of the teeth for 30 minutes twice a day for one week.
If you have always wanted whiter teeth, schedule an appointment so we can determine which of these treatment options would work best for you. For more information on the fundamentals of teeth whitening, read the informative Dear Doctor magazine article "Teeth Whitening: Brighter, Lighter, Whiter..."
This website includes materials that are protected by copyright, or other proprietary rights. Transmission or reproduction of protected items beyond that allowed by fair use, as defined in the copyright laws, requires the written permission of the copyright owners.