Cosmetic Gum Surgery Can Enhance a Smile
Cosmetic Gum Surgery Can Enhance a Smile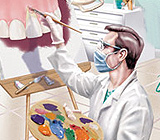 It's not just your teeth that are on display when you smile; it's also your gums. For a smile to look appealing, there needs to be a frame of healthy pink tissue to set off those pearly whites. But just as there can be cosmetic issues with teeth, the shape or condition of the gums, too, can create an aesthetic problem. If you feel the appearance of your gums is in any way detracting from the appeal of your smile, we can help with a variety of in-office surgical procedures.
Here are some common cosmetic gum problems — and possible solutions:
Problem: Too Much Gum Tissue. A smile can look "gummy" when excessive gum tissue covers more of the enamel surface of a tooth's crown (upper portion) than normal.
Solution: Crown Lengthening. This is a procedure in which gum tissue (and rarely but sometimes a small amount of bone tissue) is removed to expose more tooth surface.
Problem: Not Enough Gum Tissue. Sometimes your gums can shrink down (recede), exposing some of a tooth's root — which is more yellow than the enamel surface of the tooth.
Solution: Gum Grafting. There are various grafting procedures that can be used to cover exposed roots by moving gingival (gum) tissue from one site in the mouth to another. Sometimes laboratory-processed donor tissue can even be used to minimize the surgery.
Problem: Uneven Gum Line. This means that some teeth are covered by more gum tissue than others, which can make a smile seem off-kilter.
Solution: Gum tissue can be recontoured (reshaped) for a very pleasing effect with either conventional surgery or the newer dental laser technology.
All of the above procedures can be performed at the dental office — usually with only a local anesthetic (numbing shot). In fact, for laser surgery you may need only a topical anesthetic gel. An examination is required to determine whether conventional or laser treatment is in your best interests. Whatever your cosmetic gum surgery needs may be, the procedures are routine and predictable — and they can work wonders for your smile!
If you have any questions about cosmetic gum surgery, please contact us or schedule an appointment for a consultation. You can learn more by reading the Dear Doctor magazine articles "Gummy Smiles" and "Periodontal Plastic Surgery."
This website includes materials that are protected by copyright, or other proprietary rights. Transmission or reproduction of protected items beyond that allowed by fair use, as defined in the copyright laws, requires the written permission of the copyright owners.