Composite Resins are a Viable Restoration Option for Mildly Defective Teeth
Composite Resins are a Viable Restoration Option for Mildly Defective Teeth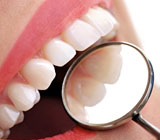 No matter how damaged or decayed your teeth may have become, there's a restorative solution for it. From porcelain veneers that cover unattractive teeth to dental implants that permanently replace missing teeth, we have the means to give you back a beautiful, life-like smile.
But what if the problems with your teeth are relatively mild — a chipped tooth or a cavity in a highly visible place? Porcelain veneers and bridgework involve extensive tooth preparation that permanently alters the tooth. Is there a less intrusive option that still results in a life-like restoration?
The answer is yes. Composite resins are tooth-colored materials that are bonded directly to tooth surfaces. Made of a plastic-based material matrix with inorganic glass-like filler, composite resins require very little tooth preparation and are often applied in a single visit.
They're an excellent way to address imperfections or defects with an otherwise healthy tooth, while still preserving the majority of its remaining structure. In the hands of a skilled dentist, composite resins can be used to fill, repair and reshape teeth. They're also an ideal choice for younger patients whose dental arches are still in development — restorations that require extensive tooth preparation might compromise the tooth's long-term health. A composite resin treatment could serve as a transitional bridge until a more extensive restoration can be performed after the patient's mouth structure has fully matured.
Composite resins do have some disadvantages. Because the resin material isn't as strong as the tooth structure it replaces (although there have been great improvements in the last few years in resin strength), it may not stand up to biting pressures over time if there isn't enough remaining tooth structure available to support it. They material can also dull and stain with use.
Still, for moderate imperfections or as an interim solution until another restoration can be undertaken, composite resins are a good choice.
If you would like more information on restorations with composite resin, please contact us or schedule an appointment for a consultation. You can also learn more about this topic by reading the Dear Doctor magazine article "Artistic Repair of Front Teeth with Composite Resin."
This website includes materials that are protected by copyright, or other proprietary rights. Transmission or reproduction of protected items beyond that allowed by fair use, as defined in the copyright laws, requires the written permission of the copyright owners.