Chronic Dry Mouth Is More Serious Than an Unpleasant Feeling
Chronic Dry Mouth Is More Serious Than an Unpleasant Feeling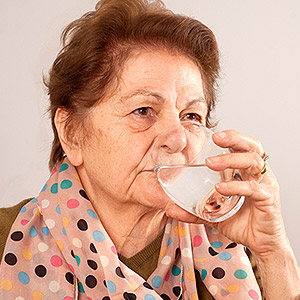 It's normal to have occasional mouth dryness—that "cotton mouth" feeling when you first wake up or after eating a spicy meal. It soon dissipates, though, leaving you no worse for wear other than the memory of an unpleasant sensation.
For some, though, the unpleasant sensation becomes a chronic condition known as xerostomia, in which their mouth feels dry most of the time. And, it can have far-reaching consequences beyond a mere irritation if not treated.
Among the numerous causes for xerostomia, the most common appears to be over-the-counter and prescription medication. An estimated five hundred medications have dry mouth as a potential side-effect, from antihistamines to antidepressants. And because people over 65 are more likely to take medications, they also have a high occurrence of xerostomia.
A person with certain systemic diseases like Parkinson's Disease or undergoing radiation or chemotherapy for cancers of the head and neck may also encounter dry mouth. For example, an autoimmune disease called Sjögren's syndrome, primarily affecting postmenopausal women, can dry out the mouth's mucous membranes.
Chronic dry mouth isn't normal, and often a sign of a health problem that should be examined. And it can lead to more problems with your oral health. Because dry mouth is most likely a reduction in saliva, which helps buffer decay-causing acid and provides antibodies to fight bacteria, having less of this vital fluid can increase your risk for both tooth decay and gum disease.
So, what can you do if you're plagued by persistent dry mouth? If you suspect your medications may be a factor, talk with your doctor about whether one of them may be the underlying cause for your symptoms. You may be able to switch to an alternate medication without dry mouth side-effects.
You can also increase your water intake during the day, including drinking more before and after taking medication. And there are a number of products like the artificial sweetener xylitol found in gums and candies that can boost saliva. Your dentist may also be able to recommend products that increase saliva.
Above all, be sure you keep up daily brushing and flossing, as well as regular dental cleanings. Taking care of chronic dry mouth could help you avoid dental problems later.
If you would like more information on preventing and treating chronic dry mouth, please contact us or schedule an appointment for a consultation. You can also learn more about this topic by reading the Dear Doctor magazine article "Dry Mouth."
This website includes materials that are protected by copyright, or other proprietary rights. Transmission or reproduction of protected items beyond that allowed by fair use, as defined in the copyright laws, requires the written permission of the copyright owners.