Acid Reflux Could Be Damaging Your Teeth
Acid Reflux Could Be Damaging Your Teeth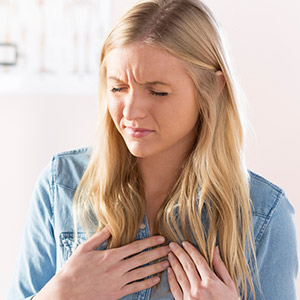 Your tooth enamel is often under assault from oral acid produced by bacteria and certain foods. Unless neutralized, acid can erode your enamel, and lead to destructive tooth decay.
But there's another type of acid that may be even more destructive—the acid produced in your stomach. Although important for food digestion, stomach acid outside of its normal environment can be destructive. That includes your teeth, if stomach acid finds its way into your mouth. And that can happen if you have gastroesophageal reflux disease (GERD).
GERD, a chronic condition affecting 1 in 5 adults, is caused by the weakening of the lower esophageal sphincter, a ring of muscle at the intersection of the esophagus and the stomach that prevents stomach acid from traveling back into the digestive tract and damaging the esophageal liner.
It's also possible for stomach acid to travel as far up as the mouth. With a pH of 2.0 or less, stomach acid can lower the mouth's normal pH level of 7.0 well below the 5.5 pH threshold for enamel softening and erosion. This can cause your teeth, primarily the inside surfaces of the upper teeth, to become thin, pitted or yellowed. Your teeth's sensitivity may also increase.
If you have GERD, you can take precautions to avoid tooth damage and the extensive dental work that may follow.
Boost acid buffering by rinsing with water (or a cup of water mixed with a ½ teaspoon of baking soda) or chewing on an antacid tablet.
Wait about an hour to brush your teeth following a reflux episode so that your saliva has time to neutralize acid and re-mineralize enamel.
If you have chronic dry mouth, stimulate saliva production by drinking more water, chewing xylitol gum or using a saliva supplement.
You can also seek to minimize GERD by avoiding tobacco and limiting your consumption of alcohol, caffeine or spicy and acidic foods. Your doctor may also prescribe medication to control your GERD symptoms.
Preventing tooth decay or gum disease from the normal occurrences of oral acid is a daily hygiene battle. Don't let GERD-related acid add to the burden.
If you would like more information on protecting your teeth from acid reflux, please contact us or schedule an appointment for a consultation. You can also learn more about this topic by reading the Dear Doctor magazine article "GERD and Oral Health."
This website includes materials that are protected by copyright, or other proprietary rights. Transmission or reproduction of protected items beyond that allowed by fair use, as defined in the copyright laws, requires the written permission of the copyright owners.